1995 Mid-Atlantic Land-Rover Rally
Text and Photos by Jeff Berg


The 1995 Mid-Atlantic Land-Rover Rally, hosted by the Rover Owners' Association of Virginia was an exciting gathering for Land Rover owners and fans alike. This years event, also called the "Built Like A Locomotive Rally" was held Sept. 29 - Oct. 1 at Penlan Farm in Buckingham County, VA.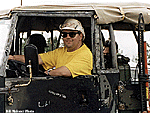 I always meet terrific people at these events. It's also fun to see exotic Rovers up close and personal. I even got to sit in a 101 Forward Control for the first time! Thanks Jared! (And thanks to Bill Maloney for snapping the photo.)

One of the high points of the weekend was the Aluminium Man Triathlon. Other competitions were held for the less adventurous, as well as for those not yet legally allowed to drive.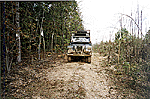 Of course, some folks, like Steve Denis, just enjoy the opportunity to take their vehicles for an off-road cruise. Readers of the LRO mailing list will thrill to these shots of NOTAJEEP in action, driven by Steve's SO Nancy. List members Jon Humphrey and, if you have a sharp eye, Bill Maloney, play tag-team backseat driver.




If you own a Land Rover, or wish you did, be sure to mark the first weekend in October down in your calendar. That's when the 1996 Rally is going to be held.

Thanks to Nancy and Mike McCaig, Sandy Grice, and all of the ROAV members who worked so hard to make the rally a success.


Introduction | Competitions | People | Rovers
No More! Take me back to the RoverWeb!

---
All photos © 1995, Jeff Berg unless otherwise credited.
Got something to say? Write me, jeff@purpleshark.com